Bwana and Lina were released by Madam Sisulu back in downtown Port Artue. Bwana and Lina plan on getting the book from Club Temba's safe before anyone else. Lina works on unlocking the backdoor to Club Temba while Bwana go look for Kito and the airplane.
Use the following detail maps to locate items in each location: Harbor, Arnie's Bar, Lantern Room, Train Station, Junkyard . Use the Port Artue area map to navigate between locations.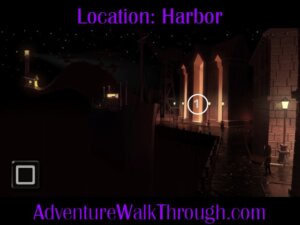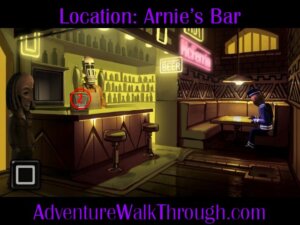 1. Train Station: Bwana figures that Kito might be in the train station junk yard gathering spare parts fixing their airplane. Go over to the train station. The train station is occupied by the power company guards. Go back into the station again. Realize that the guards take orders by radio. Bwana needs to figure a way to get the guards away from the station.
2. Radio: Go check out the radio in Arnie's Bar. Figure out the station that the guards are using: 99.4.
3. Broadcast: Recall that lighthouse's lantern room is also used for broadcasting. Go over to the lantern room. Remove the record on the turn table. Adjust the radio frequency to 994. Check out which records can distract the guards the most. Pick out the third record: Lonnie's Used Mattress commercial. Put the record on the turn table. Guards leave the train station.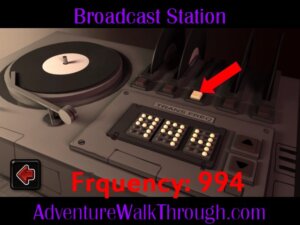 4. Airplane: Find Kito in the train station junkyard. The airplane is in a good condition, but they need to find a way to lift the airplane out the yard.
5. Oil Can: Look around the junkyard. Pick up an old oil can.
6. Elevator: Try to get up the elevator and access the crane. The top of the tower is too dark. If only Bwana can get the lighthouse lantern to shine some lights the crane.
7. Lighthouse: Go to Morten's lighthouse. Try adjusting the doohickey, but stop by Morten.
8. Reel: Go up the lantern room. Grease up the rusty reel with oil can from the junk yard.
9. Pulley: Place model ship on the pulley. Release the pulley. Morten is distracted.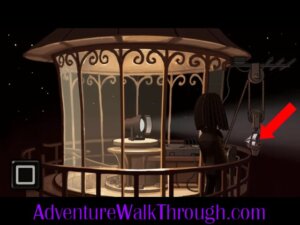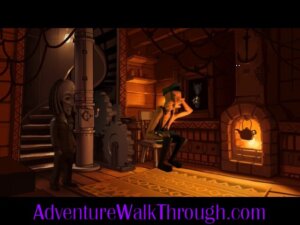 10. Doohickey: Adjust the doohickey so the needle point is around South-East 135 degree. The light needs to shine directly on the crane and train station.
11. Crane: Go back to up the elevator at the train station junk yard. Use the crane to move the airplane to the harbor. Mission accomplished. Bwana will go back to check on Lina.