Bwana was unable to rescue Lina and got throw out of Club Temba. However, he did uncover a clue regarding his father, Kaonandodo. Port Artue is the last known place before Kaonandodo disappeared, and it is evident that Police chief Barlow is acquainted with him. Bwana will search Port Artue for more clues.
Use the following detail maps to locate items in each location: Arnie's Bar, Major's Office, Morten's Lighthouse, Street, Cinemas Rex, and Harbor. Use the Port Artue area map to navigate between locations.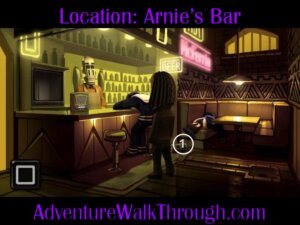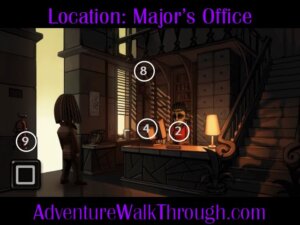 1. Bottle: Visit Arnie. Get no answer on Kaonandodo from Arnie. Pick up an empty eel rinse bottle.
2. Andi: Walk towards the street. Meet smoking woman again. Her name is Andi (Andiswa). Her building is the major's office. Talk to Andi. Get no answer on Kaonandodo. Learn that Andi loves St. Armando. Give her the Almanac from Arnie's Bar.
3. Police Report: Visit Morten. Ask him about Kaonandodo. Bwana is surprised to learn that Kaonandodo went on an expedition to the Underland with Barlow. Soon Kaonandodo disappeared, Barlow was made police chief,and a police report is made classified.
4. Computer: Go back to major's office. Use Andi's computer to research "Expedition". The file is classified and can not be accessed; however, Bwana obtains the information that the report is written by old Police Chief Leroy McIgbo. His new mission is look for and talk to McIgbo.
5. Telephone Booth: Look up McIgbo in the directory. Leroy is not listed, but only a Mrs. Leroy. Dial 510 842. Talk to Mrs. Leroy. Uncover the fact that Leroy McIgbo had been disappeared for ten years and his files was taken to the Armando Power Company's Port Artue office on Charnel Road. Bwana's new mission is head over to the office and retrieve the police report.
6. Taxi: Talk to taxi driver, Ride Reynolds, outside Cinema Rex. Request a ride from Reynolds only to find out that he needs new tire.
7. Deflated Rubber Boat: Head over to the harbor. Snatch an orange deflated rubber boat from the boat.
8. Smoke Detector: Make a smoke with the match next to the smoke detector. This will release the lock on the fire extinguisher by the door.
9. Fire Extinguisher: Grab the fire extinguisher.
10. Fancy Car: There is a fancy car outside the major's office. Place the rubber boat under the car. Inflated the boat with fire extinguisher. Grab a tire.
11. Tire: Fix the taxi with the new tire. Get a ride from Reynolds to Charnel Road.